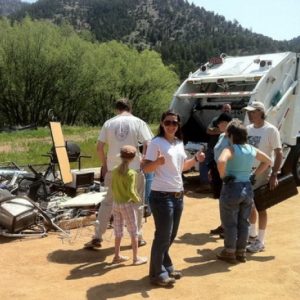 Next Recycling Pick-up:
Saturday, April 8, 2017
10 AM – 12 PM
Church Parking Lot
Recycling, Compost, & Slash Schedule
View the printable Single-Stream poster to learn what materials are accepted.
---
Introducing Jamestown's Zero Waste Program: Recycling, Compost, & Slash!
Grant program duration: April 2017 – March 2018

Great news – Jamestown was awarded a 2017 Sustainability Grant for $6,785 from Boulder County! We are excited to join the County's efforts to approach "Zero Waste" by 2020!
Instead of requiring the Town to provide a cash match, the County has agreed to a match with in-kind volunteer hours. Because of Jamestown's incredible volunteer culture, we think this is going to be fun. Looking for an opportunity to help? Jump on in! See below for contact information.
What Does This Mean for Jamestown?
Monthly Recycling Pick-Ups

Monthly Single-Stream Recycling Pick-ups in Jamestown by Green Girl Recycling
When: 2nd Saturday of the month, 10 AM – 12 PM (first pick-up: April 8).

Exception: Due to the 4th of July Celebration recycling & compost collection, there will be no regular pick-up in July.

Where is the drop-off?: Church Parking Lot
Cost: Free (…but donations will be gladly accepted for the purpose of extending this program!)
One "Hard-to-Recycle Day"
Jamestown will host one "Hard-to-Recycle Day" within the year.
Acceptable items to include electronics, batteries, paint, light bulbs, scrap metal, clothing, books, etc. Be watching for more information.
Fall 2017/ Date and time TBD.
Compost Outreach & Education: "Composting in Bear Country"
Compost Kickoff Session with Special Speaker: "Composting in Bear Country – how to do it safely, successfully, and without causing harm to wildlife!" (Speaker TBA)

Do you care about our environment and keeping our wildlife safe? Come join us for this community pow wow on how we can all work together to compost locally and in a way that doesn't attract bears or harm wildlife.

Free Giveaways: Participants will be eligible to win prizes (i.e. worm bins, hotwire, etc.)
This kick-off will strive to be a collaborative effort between the Jamestown Recycling Committee and the Jamestown Save Our Bears group.
May 2017 / Date, time, & location TBD.
Slash Days
This grant includes two slash collection days within the 12-month program timeline.

1 30-yard roll-off per event.
Slash will be hauled away to be composted.
Acceptable materials: small branches, pine needles, leaves, etc. More info to come.

Spring & Fall 2017/ Exact dates and times TBD.
Zero Waste for 4th of July!
This grant funds (for the first time ever!) pick-ups for recycling and compost generated by our 4th of July Community Celebration.
---
Interested in joining the Recycling Committee? Jamestown is turning a darker shade of green this year. Come be a part of this incredible transformation!
Contact:
Ken Lenarcic, Chair | (303) 598-8059 (cell)
Erika Archer | erika.archer@jamestownco.org