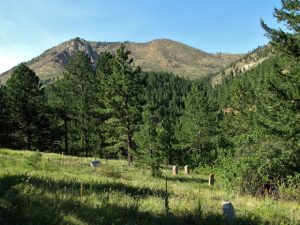 With a landmark view of Porphyry Mountain, Jamestown's Historic Cemetery is located on the east side of the town in an incredible setting. Inquiries should be directed to the Town Clerk at townclerk@jamestownco.org / 303-449-1806.
JAMESTOWN CEMETERY ORDINANCE
2021 Ord 9 2 Cemetery Ordinance
If you are interested in a plot within the Jamestown Cemetery, please fill out the application form below.
JAMESTOWN CEMETERY APPLICATION
JAMESTOWN CEMETERY RECORDS
Click here to download the Jamestown cemetery records.