Jamestown is both mindful and grateful for the many donations sent from around the country to help with our recovery:
Private Donations
Out of respect for confidentiality, we do not have individuals' names listed here. If you are interested in making a private donation to the Town of Jamestown, please contact the Jamestown Town Clerk at 303.449.1806.
---
Jamestown Newsletter Donation
Thank you to Green Girl Recycling for sponsoring the Jamestown Town Newsletter since early 2014. We appreciate how this local business has supported our community in so many, ongoing ways. Thanks, Green Girl!!
---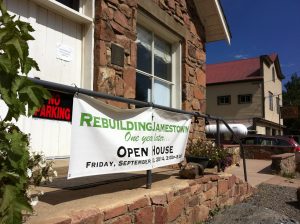 Open House – Rebuilding Jamestown One Year Later
American Red Cross
Boulder County Long-Term Flood Recovery Group
Eco Products
GrafXgroup (Photo Craft)
Green Girl Recycling
Hazel's Beverage World
Jamestown Mercantile Co. Cafe
Mike's Camera
Salvation Army
---
Thanks to the individuals and organizations who donated services and items to the 4th of July event!
All Events Rentals
ARP Dealer Services
Arugula Restaurant
B& F Market Nederland
Blaster Bouncer
Bob Tarantino Recording Studio
Boulder Arts & Crafts
Eco-Products
Full Cycle
Gold Hill Inn
Greenbriar Restaurant
Hapa Sushi Grill & Sake Bar
Harmony Music School
Heather Yahnke: Free Heatherization (that's a haircut a cut above other haircuts)
Hotel Boulderado
Jese Engwall
Kaladi Brothers Coffee
Liberty Puzzles
Lucky's Market
Mountain Strong Wellness Center
Mountain Sun Pub & Brewery
Murphy's Grill
Salvaggio's Deli
Savory Spice Shop
Tangerine
The American Red Cross
Tortuga's: A fish house
UMBA
Under The Sun
Woodley's Fine Furniture
---
Rebuild Jamestown Fund – Organizations
Thanks to ALL of the amazing organizations who have helped Jamestown out with our flood recovery. These organizations include (but are not limited to):
Abo's Pizza
IBM
All Events Rentals
Idlewhile for Rebuild Jamestown
Anna's Farm
Jamestown Elementary (East) with Boulder Community Montessori
ARP Dealer Services
Jamestown Mercantile Cafe
Arugula Restaurant
Juk'n & Jam'n for Jamestown
B & F Market Nederland
Kaladi Brothers Coffee
Balarat Outdoor Education
King Soopers – City Market
Blaster Bouncer
Liberty Puzzles
BMFPD Auxiliary
Lucky's Market
Bob Tarantino Recording Studio
Maurer Painting
Boulder Arts & Crafts
Mennonite Disaster Service
Boulder Beer Company
Mike's Camera
Boulder Fastframe
Mountain Strong Wellness Center
Boulder Food Recycle
Mountain Sun Pub & Brewery
Boulder Little League
Murphy's Grill
Boulder Shambala Center
Nederland MS/High School
Boulder Wine Merchant
Noodles and Company
Champion Forest Student Ministry
Pick Up Sticks Marimba Band
Christian Aid Ministries
Qdoba's
Cyclists for Jamestown (C4JT)
American Red Cross
Dances of Universal Peace
Salvaggio's Deli
Dr. Scholl's Foundation
Eco-Products
Salvation Army
Eden Mennonite Church – Moundridge, KS
Sand Pebble, LLC
Eldorado Spring Water
Savory Spice Shop
Eternal Savior Lutheran Church
St Julien Hote
First Baptist Church of San Angelo, TX
St. Ambrose Episcopal Church
Flatirons Rotary Club of Boulder
Sunflower Kids Art Studio
Flood Bowls by Joy Boston
Tangerine
Full Cycle
Team Rubicon
Gold Hill Inn
Texas Southern Baptists
GP RED
The Rio Grande
Greenbriar Restaurant
TLC Tree Care
Gunnin
Tortuga's: A fish house
Hapa Sushi Grill & Sake Bar
Twig Salon
Harmony Music School
UMBA
Hazel's Beverage World
Under The Sun
Heather Yahnke Hair
UPS
Home Depot
Venus De Miles Bike Club
Hotel Boulderado
Walnut Gardens Restaurant
Woodley's Fine Furniture
* If we missed your organization's name, please do not hesitate to drop us a note: erika.archer@jamestownco.org