After having spent the last three years as a staging area for the construction crews working on various infrastructure projects, the Town Square is being reconstructed at long last!
Phase I (FEMA funded): Excavation, grading and contouring – completed mid-2016.
Phase II (GOCO funded): Construction of the landscaping and park features in progress by mostly local workers. Began November 2016; to be complete late spring 2017.
---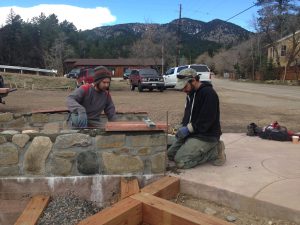 Updated March 31, 2017
The flagstone caps for the rock wall are in progress. Construction on the ramada (square gazebo) is beginning this weekend. Bela Amade has volunteered to lead the charge on the building of the ramada kit. (Thank you, Bela!)
Looking ahead:
Ramada & Fountain
Fencing / Curbs
Sod / Landscaping
Updated March 14, 2017
Matty Graziano (Mountaineer Landscaping & Painting) is taking advantage of the gorgeous weather to build the rock wall on the platform where the ramada will be.
Looking Ahead:
Ramada & Fountain
Fencing / Curbs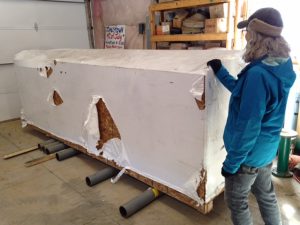 Updated February 7, 2017
Phase 2 continues. Here's what's new:
The ramada kit arrived January 18 and is being stored in the temp fire station. (Special thanks to Quinter F for his forklift-enabled front end loader for getting it off the truck in front of the fire station and into the bay at the temp fire station at the park.)
Previously:
Water line laid (Buddy/Arne)
Electric installed (Scott S)
Concrete pads poured (Grant J)
Timbers for stairs (Joe R)
Fill for stairs (Buddy)
Rock wall work began (Matty G)
Complete: early spring
---
To reconstruct Andersen Hill and Bridge, the Town swapped land with the Church. The swap included some of Town Square property. Even with this, the Church gave more than they got. This adjustment resulted in moving the western border of the Town Square 25′ to the east. For plans, please see the latest community presentation, linked above.
Thanks to the entire community for input on this project. A very special thanks goes to Wendy Stokes, Vic Harris, Martine Amade and Chad Droste for heading this project up!
For more on the Town Square (including sketches), please see the: Community Meeting 2016 06 13 Presentation
---