Jamestown Artist Contest: Design Our New Gateway Markers!
As part of the CDBG-DR Traffic Calming project, the Town can have two gateway markers constructed and installed as part of the CDBG-DR CR 94 Paving Project.* Gateway markers (also called gateway monuments) are roadside installments that serve a traffic calming function in two ways: by making drivers more aware that they are entering a populated area, and by giving drivers a visual sense that a road is narrower than it actually is.
We'd like Jamestown's markers to be designed by locals, so we have just completed a concept contest. This was quite a contest, with many beautiful, unique, and sometimes funny ideas submitted. A full list of entries and their creators are below. A very special thank-you to the nearly 100 voters who participated, as well as to Roads and Bridges Chair Trustee Jen Lucas for coming up with the idea. Please see below for the results of this fantastic community effort.
---
Updates:
Updated March 7, 2017:
The Jamestown Board of Trustees approved the Gateway Marker design from the design engineer. This design is based on Craig Brown's design, the first place winner in the Gateway Marker Design contest held last month. Pictures forthcoming.
Updated February 16, 2017:
Congratulations to Craig Brown as our first place winner in the Gateway Marker Design Contest!
Craig's gateway marker design (Entry A) depicts a mountain lion and bear cub in a tree, from which hangs a sign. A couple of miners' tools are beneath the sign. The idea would be to create the sign out of contrasting metals, with a wooden sign.
The second place winner is Roger Loving, with his gorgeous tree and mountain scene.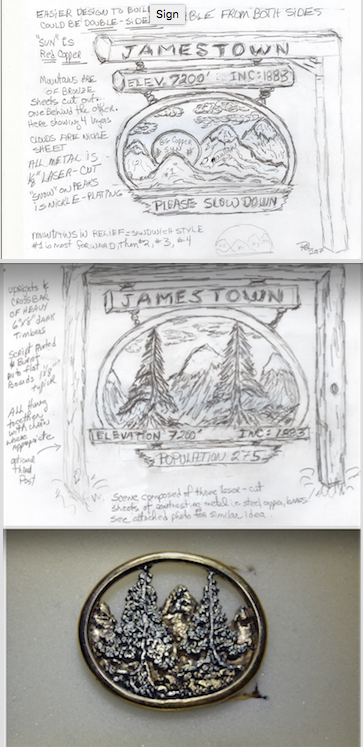 Next Steps: Craig's winning design is being submitted ASAP to a pro design engineer, who will, in turn, present a further developed design to the Jamestown Board at the March 6th BOT Meeting. (We have to move quickly!) This design will take into account both funding constraints and the other data collected from the survey.
List of our creative entrants:
Entry A – Craig Brown – First Place!
Entry B – The Markovs
Entry C – Roger Loving – Second Place!
Entry D – Jim McGinley
Entry E – Rainbow Shultz
Entry F – Steve Miles Hull
Entry G – Erika Archer
Entry H – Emma Hardy / Erika Archer
Entry I – The Markovs
Entry J – Anonymous
Entry K –  Julie Constantine
Entry L – Millissa Berry
Entry M – Carly Rixham
Entry N – Jan Reed
Entry O – Jan Reed
Entry P – Jan Reed
Entry Q – Martine Amade
Entry R – Martine Amade
---