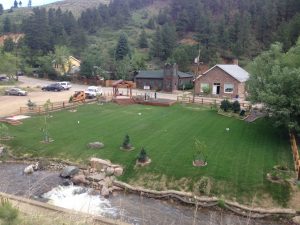 Town Square
Phase I (FEMA funded): Excavation, grading and contouring – completed mid-2016.
Phase II (GOCO funded): Construction of the landscaping and park features in progress by mostly local workers. Began November 2016; completed late spring 2017.
---
---
To reconstruct Andersen Hill and Bridge, the Town swapped land with the Church. The swap included some of Town Square property. Even with this, the Church gave more than they got. This adjustment resulted in moving the western border of the Town Square 25′ to the east. For plans, please see the latest community presentation, linked above.
Thanks to the entire community for input on this project. A very special thanks goes to Wendy Stokes, Vic Harris, Martine Amade and Chad Droste for heading this project up!
For more on the Town Square (including sketches), please see the: Community Meeting 2016 06 13 Presentation
---